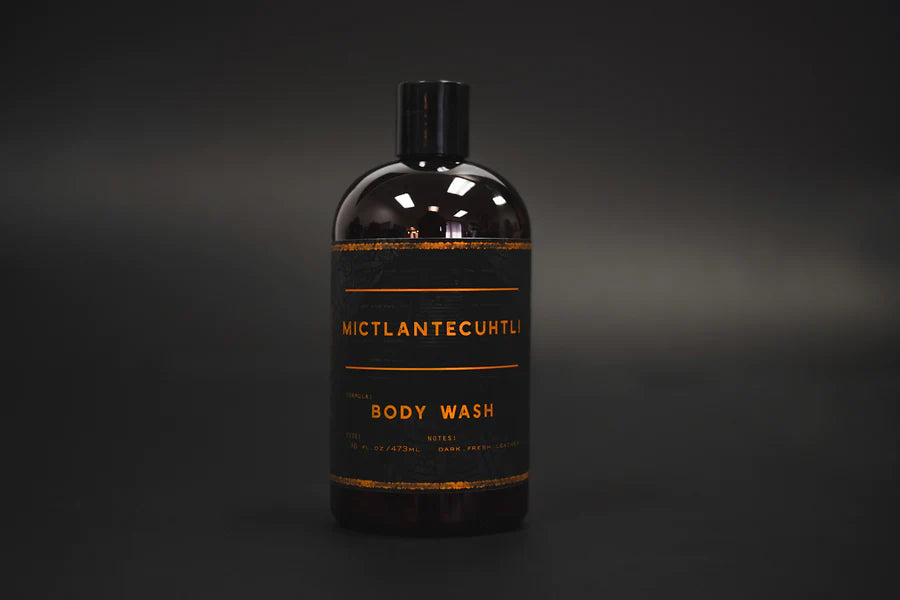 Mictlantecuhtli Body Wash
---
Free shipping on all orders over $75
Low stock - 1 item left

Inventory on the way
Mictantecuhtli
 Bodywash formula offers rich lather. Leaves the skin moisturized for a soft feel. Has a touch of activated charcoal for a gentle cleansing result . Scented with out signature scent
"Mictlan"
"Mictlantecuhtli " The Aztec god of Death and Underworld is the name of the fragrance formulated for Halloween / Dia De Los Muertos brew.
.
Mictlan is a dark deep fragrance. Inspired by the Aztec underworld. This fragrance opens up with a rich earthy damp dirt note that transitions into a dark leathery fragrance with subtle notes of smoke. It is then blended with mineral and bergamot notes to give it a touch of freshness. It's dark. earthy. mysterious and masculine
.
Scent: Mictlan

Notes: 
Mud. Bergamot. Minerals. Cypress. Smoke. Mastic. Leather. Rosemary. Amber. Ocean Notes.
.
Ingredients: Water. Sodium laureth sulfate. Sodium lauryl sulfate. Cocamide mea. Cocamidopropyl betaine. Methylparaben. Methylchloroisothiazolinone. Methylisothiazolinone. Citric acid. Sodium chloride. Activated charcoal. Love.