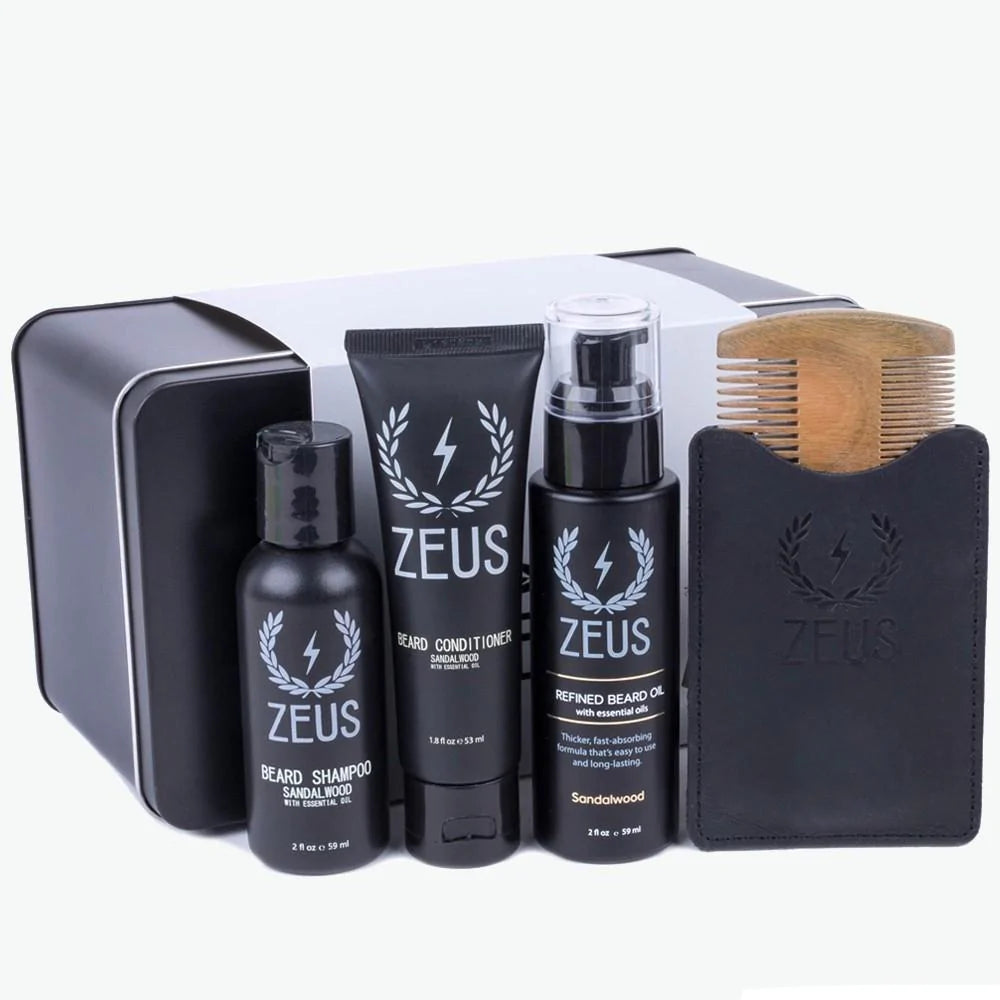 Refined Essential Beard Care Kit - Sandalwood
---
Free shipping on all orders over $75
In stock, ready to ship

Inventory on the way
Whether you're just starting on you bearded journey or are an experienced beardsman, the Zeus Essential Beard Care Kit contains all you need to keep your facial hair comfortable and looking its best. Not sure where to start on your bearded journey? Or, perhaps you're an experienced beardsman just looking to return to your roots. No matter where the hairy path leads you, the Zeus Essential Beard Care Kit is ready to serve as the foundation to your godly facial hair. Assembled to provide our best to keep things comfortable and health, this kit includes
Zeus Beard Shampoo: Formulated with natural ingredients like Dragon's Blood, Green Tea, and Chamomile, our Beard Shampoo is created just for that face of yours. It works to cleanse the beard, while remaining gentle on skin. Our favorite part is that it works with your natural oils, making it suitable for those with sensitive skin.
Zeus Beard Conditioner: Active ingredients Pro-Vitamin B5 and Avocado Oil join to strengthen follicles, preventing splitting and breakage. Aloe Vera and Green Tea join to form a supremely moisturizing dynamic duo to hydrate both skin and hair.
Zeus Refined Beard Oil: As pure as they come, this Beard Oil is unlike anything else you have experienced before. It is crafted with only 6 ingredients- including Argan, Avocado, Almond, and Soybean Oils- to ensure nothing but the best reaches hair and skin. A thicker, gel like consistency is fast absorbing to unleash supreme beard powers. Just trust us.
Zeus Organic Double Sided Sandalwood Comb: Naturally anti-static and friendly to hair in all shapes and sizes, this comb is your beards best friend. One side of fine width teeth removes tangles and any beard debris while Medium Width teeth style and smooth. Comes with a genuine leather sheath to stay protected while on-the-go.