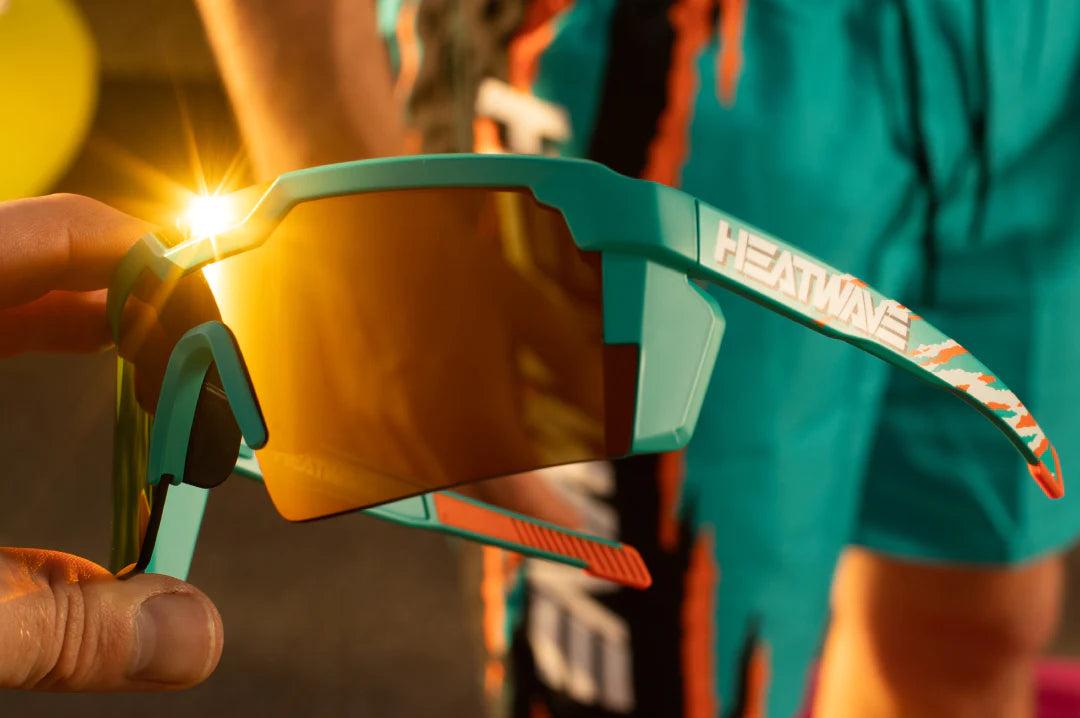 Future Tech Sunglasses Bolt Smoker Z87+
---
Free shipping on all orders over $75
In stock, ready to ship

Inventory on the way
Keeping the retro vibes rolling strong - This is the Bolt Smoker collection; spread across Heatwave's best-sellers.

The Bolt Smoker Setup is built up with a Aqua green frame, Sunblast  lenses and orange highlights. On the arms you will find the Bolt Smoker graphic on an unique and bold, aqua green arm.

These are part of a new series of unique Heat Wave collections, featuring color treatments and graphic combinations most of which have never before been offered in the Heat Wave lineup. These are all formulated from the ground up for something that stands out and remains fresh.
The Future Tech is the beginning of a stronger, faster, more technical era for Heat Wave Visual. These are the future of weaponized visual high-speed performance: Aggressive, loud and innovative beyond any pair of sunglasses before them. Heatwave spent over 2 years designing, researching, and refusing to compromise on every facet of the Future Tech to ensure that They are giving their customers what they deserve: The absolute best eyewear on the market. Designed from the ground up, the Future Tech incorporates a multitude of new, cutting edge features to improve every aspect of their performance:
- A replaceable, impact resistant, full coverage shield lens with a seamless lens lock & support system along the protective side shields. The lens is accented with a bold brow window across the top of the Nylon Polyamide frame that give these an aesthetic unlike anything seen before.
- A combination of industry leading Thermo-plastic materials to give the Future Tech its exceptionally lightweight, flexible fit while providing higher heat and greater chemical resistance than ever before.

- All-new, low profile dual injected arms have been designed for performance across all conditions, allowing for a better fit with headwear from hats, helmets, and hearing protection.

- The Push-lock lens attachment system allows you to swap the Future Tech's impact resistant lenses in and out with no tools required.

- Rubberized Hytrel touchpoints on the nose and arms provide a more comfortable, non-slip fit with higher resistance to both natural and chemical agents.
Heat Wave Visual has always focused on listening to their customers to constantly improve the quality, design, and performance of Heatwave eyewear. The Future Tech was designed to give you a dominatingly bold look, unparalleled functionality and ANSI Z87+ protection right out of the box.

-Meets ANSI Z87+ mass impact requirements*
-Includes Microfiber bag
-Matte Black frames & metal inlay logos
-No tools or hardware required for customization